This is a story of life, love, companionship and respect.
Listen in
HERE
- you won't regret it!
Ger Philpott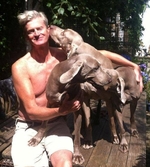 Ger Philpott is an award winning screenwriter and filmmaker. He writes for the print media,
radio, screen and TV.
His work includes the prizewining short films, Change and An Turas. He is the author of the best-selling book on AIDS, Deep End.
He works as a writer, director, radio producer and freelance journalist.
A keen gardener and accomplished cook he lives in Dublin. He is a current Irish Masters swimming record holder and breeds and exhibits Champion Weimaraner dogs.